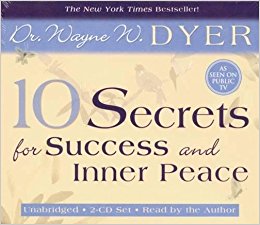 We have made it to the fourth month in the calendar year and it's time to assess where you are on your positive journey. There is a high percentage of people who decide to abruptly commence a positive lifestyle near the end or beginning of the year. Although there is absolutely nothing wrong with that, a high percentage of those people default their way back into their previous negative lifestyle shortly after beginning their positive journey.
For many, living a negative lifestyle (life of judgment, hateful thoughts, doubt etc)  feels absolutely normal similar to how a high feels normal to an addictive drug user. Just like there are preferred ways to wean from obsessive drug use, there are also productive ways to keep you consistent on a positive path. I am aware that different methods may work for various people but I am certain that after trying the ones that I have provided and those that you have researched, you will attract techniques that are ideal for you.
Acknowledgment & Appreciation
Acknowledge that your path to enlightenment is a process. It will be a journey from having the attitude that life is completely terrible to having the belief that "Life is Lit AF". (my personal belief and favorite saying :)) Know that it is okay if you notice yourself thinking negative thoughts. (again it is highly unlikely you will be able to fully change overnight) Your acknowledgment of those thoughts is actually a great sign because it reveals your awareness of where you desire to go on your path.
Most importantly, congratulate yourself for trying something new. While it is easy to keep doing the same things that you have been doing, know that life begins outside of your comfort zone. Establish a daily habit of telling yourself that you are doing a good job. This is something that your subconscious will begin to internalize and it will help you feel better about life. Remember that in order to grow you must have self-approval because self-criticism will keep you dormant which is the opposite of what you desire.
Focus & Detox
There are a million & one things to do throughout a particular day so it is easy to dismiss a positive mindset if there aren't strategic daily reminders set. Daily reminders of positivity will keep you focused on the things that you truly desire to accomplish. Some daily activities that you can engage in include:
Meditation/Positive prayer– There are many ways to meditate but it is best to explore many options until you find what's appropriate for you. I've personally found it helpful to sit quietly in a comfortable setting for a time period of 20 minutes completely staying in the now and releasing all thought. My favorite guided meditations are  Well Being Meditation by Esther Hicks and the Ah Meditation by Wayne Dyer. I'm also a big prayer, however, when praying please remember to pray in a state of positivity, gratitude, and expectation, as opposed to negativity, lack, and doubt.
Reading Inspirational Text-  Reading positive passages daily absolutely keeps me grounded. Some quick and easy things that I read are my daily affirmations. After reading my affirmation of the day I view myself as if I've already manifested whatever it is. If you haven't yet written your own affirmations you can begin by reading some general affirmations or even some inspirational quotes.
I also love to read self-actualization books.  Some of my favorites are The Power of Now by Eckhart Tolle, The Vortex by Esther & Jerry Hicks, The Power of Intention by Wayne Dyer, Conversations With God by Neale Donald Walsch etc. Most books have an audio version so being too busy isn't an excuse. You can listen to the audio version in your car or even while you're going to sleep because your subconscious will still internalize those ideas.
Get An Accountability Partner 
This process should be a natural one meaning your choice should be someone out of ease. This should be a person who is already where you'd like to be spiritually or someone who individually decides that they too want to begin a positive lifestyle. Just like gossiping is a popular thing to do for some while on the phone, make discussing positive aspects of life a popular discussion. You can encourage someone to take this journey with you but know that you can't do the work for them. That is why it is best for them to naturally decide a positive lifestyle.
With your accountability partner, you should be able to discuss all of your passions and inspirational goals because there should be an encouraging and accepting vibe between you two. You should be able to challenge each other to focus only on what is desired when one or both is focused on shortage. I have found that having an accountability partner is very helpful and very fun!
Stay Encouraged & Feel Good
Life is not a sprint but more like a marathon. Encourage yourself daily to have a deep appreciation for life. If at first, your gratitude is not natural it will eventually become effortless after making lists of things to be grateful for. Right now you may not be living your ideal life but I guarantee that you can do or have anything that you desire if you believe that you can.
Care about how you feel choose to be optimistic rather than being pessimistic. Ask yourself "Has negativity been working out well for me thus far"? If the answer to that question is no, it is time to try something new and that's the willingness to live a positive lifestyle.
To feel good is to feel God– Wayne Dyer